Summer Blackowl, Indian Education Advocate
3 months ago
El Reno Indian Education
My name is Summer Blackowl. I am the Indian Education advocate at Lincoln Learning Center and Roblyer Learning Center.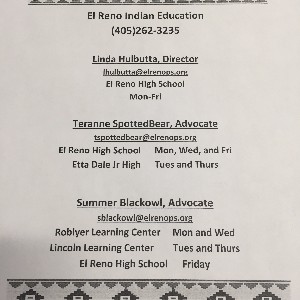 Linda Hulbutta, Director of Indian Education
5 months ago
Linda Hulbutta, Director
lhulbutta@elrenops.org
High School Rm 106
Monday - Friday 8a-4:30p
Teranne SpottedBear, Advocate
tspottedbear@elrenops.org
Etta Dale Jr High Rm 17
Mon, Tues, Wed, Thurs 8a-12p
Rose Witcher Elementary
Mon & Wed 12p-3p
Summer Blackowl, Advocate
sblackowl@elrenops.org
Roblyer Learning Center
Lincoln Learning Center
Tues, Thurs, Fri 8a-3:30p
Teranne Spottedbear, Indian Education Advocate
3 months ago
El Reno Indian Education
My name is Teranne Spottedbear. I am the Indian Education Advocate at Etta Dale Junior High.