EDIT MAIN
Memorial Stadium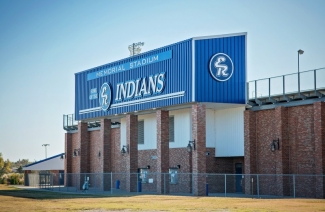 Present Day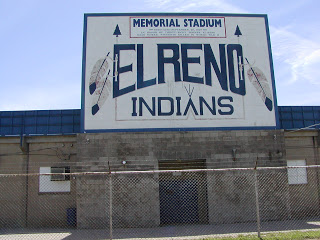 Original
2001 Sunset Dr, El Reno, OK 73036
New seating was designed to generously accommodate 2,500 fans and meet ADA and code requirements. The design also included a new press box for media and coaches, as well as restrooms, concessions, and ticketing pavilion. Landscaping was improved to increase public security.
ERPS's Memorial Stadium is called Memorial Stadium in order to honor the 38 El Reno students who gave their lives in service to our country in World War II. The field was dedicated in September 1949, and a plaque bearing the names of those thirty-eight young men was put up at the field at that time. We now know of 43 total former ERPS students who meet that criteria and who will be honored at the re-dedication of the stadium on September 27, 2019.
Names of World War II servicemen:
Hubert Austin Ables
Wade Hampton Allison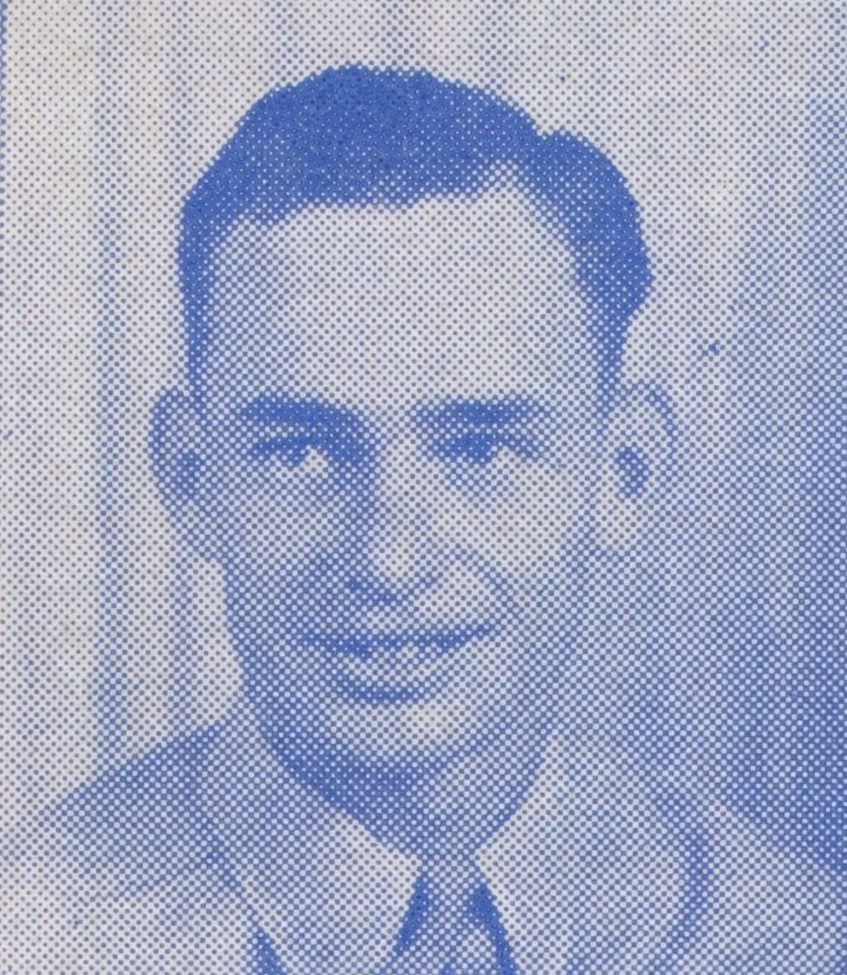 Technical Sergeant, U.S. ArmyBorn 1 June 1920 & Died 13 November 1945
After V-E Day on 8 May 1945 ended the war in Europe, and even after World War 2 officially ended on 2 September 1945, when Tec 3 Wade H. Allison was serving in the HQ (Headquarters) Company of the 15th Army, chemical section, he was due to return home from Germany just a few days after 13 November 1945.
But on that fateful day, he was involved in some sort of automobile accident--the exact details which we have yet to ascertain--in Bad Nauheim, Germany, an accident in which he died.
He had attended El Reno High School for just about one year during his senior year. Like so many students did, he withdrew from school early, before graduation, to serve his country.
Ralph Everett Bell
Wilmot Donald Bolinger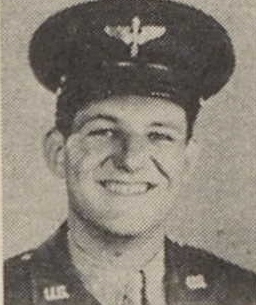 Aviation Cadet U.S. Army Air Forces
Born 14 June 1918 in Rocky Ford, Colorado and Died 14 October 1942 near Oakwood, Oklahoma.
Wilmot Bolinger was a graduate of El Reno High School, a part of the Class of 1937. He then went on to attend Oklahoma Baptist University for a time.
Among the many facts we've uncovered about him, we've learned that he was in the Boy Scouts, played the trumpet, was active in theater and speech, was an intramural wrestler in the heavyweight class, and was an honor student.
Aviation Cadet Bolinger died while at Enid Army Flying School (a.k.a. Woodring Field in Enid, OK) as part of the 474th School Squadron. He died in the crash of a BT-15 trainer aircraft three miles north of Oakwood, OK, on a training flight.
He was married to Frances Christene Moore of Shawnee, where he attended college.
The two pictures attached are his senior picture, as found in the 1937 Boomer yearbook, and his service picture as found on the "Gold Star Men" page in the 1946 Boomer-Collegian yearbook which honored those former El Reno Students who had died in World War 2.
Harry Eugene Bradly
Emmett Wilson Burns Davis

Seaman Second Class U.S. Navy ReservesBorn: 21 February 1919 and Died: 27 October 1944 (at age 25,
He was an El Reno High School graduate, a member of the class of 1937 (he is listed as Emmett Wilson Davis). He had attended both grade school and high school at El Reno.
Seaman Burns died in the naval hospital at Twin Falls, Idaho, due to a cerebral hemorrhage/aneurysm. He had enlisted in the Navy just a few months before being stationed at Camp Bennison in Farragut, Idaho. He left behind a wife and a son to mourn his loss, along with many other friends and relatives.
Attached image of "Wilson Davis" is from the 1937 EHS Boomer-Collegian yearbook.
Marvin Earl Crump
Lawrence Wilburn Dyche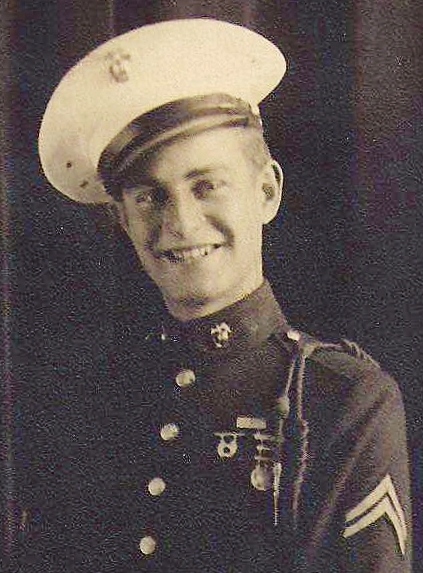 Corporal, U.S. Marine Corps
Born Abt. 1923 and Died 16 June 1944
He was El Reno's only casualty of the war who was in the U.S. Marine Corps.
He was assigned to H&S Company, 6th Marine Regiment, 2nd Marine Division.

Corporal Dyche died from wounds he received in the battle for Saipan.
Billy Jack Evans
James Roby Ferguson
Leonard L. Flagler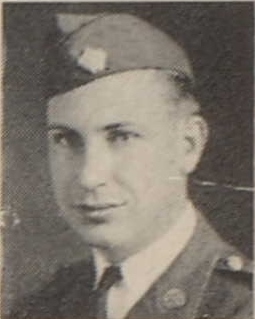 Born 14 Aug. 1913 Died 21 Feb. 1944 (age 29)
Served in HQ company, 645th Tank Destroyer battalion, a part of the 45th Division. This group used howitzers and other anti-tank measures in the war. T/Sgt. Flagler was Killed in Action during the fierce fighting in the German offensive at Anzio beachhead in Italy. His service picture as found in the 1946 Boomer Collegian yearbook
Russell B. Flippen

First Class Carpenter United States Merchant Marines
Born 27 August 1917 at Yukon, OK
Died 24 September 1942 near British Guiana, which is on the northern coast of South America.
He perished while serving aboard the merchant ship West Chetac, which was sunk by a German U-boat submarine.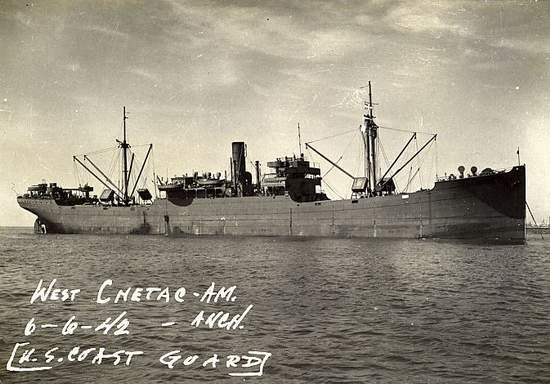 Image from:https://uboat.net/allies/merchants/crews/ship2206.html
Above picture of R. Flippen is from memorial page in 1946 El Reno Boomer-Collegian yearbook.
Warren Vernon Frazier
Gustavus DeLana "Gus" Funk
James Alfred Hinds
Julius Olsen Hodges
Melvin Wayne "Rookie" Jacks
Thomas Gordon Jackson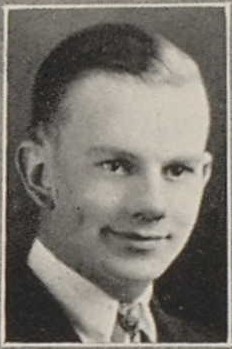 Staff SergeantU.S. Army Air Forces
Born: 16 May 1908 and Died: 20 October 1945 in Oklahoma City, OK
Thomas Gordon Jackson was a graduate of EHS, a member of the Class of 1928.
S/Sgt. Jackson was a waist gunner in a B-17 Flying Fortress bomber, one of nine of our forty-three World War 2 casualties who was in a B-17 bomb group. In fact, Gordon "Zoad" Jackson, as he was also known, was part of perhaps the most famous bomb group in World War 2, the 91st Bombardment Group, 324th Bombardment Squadron, the exact same bomb group and squadron that the famed "Memphis Belle" B-17 was a part of.
On 25 July 1943, the 91st's B-17F "Ritzy Blitz" (serial number 42-29813), which S/Sgt. Jackson and the rest of the 10-man crew were serving in that day, was hit by flak over Hamburg, Germany, on the first Allied mission to bomb that key German city. He survived the incident but was taken in as a POW of the Nazis.
After almost two years in various POW camps, Gordon Jackson was liberated by the Allied forces which literally knocked over the barbed wire fences surrounding the POW camp he was in at the time, to the cheers and excitement of those Allied POWs who had been imprisoned there.
He died in a hospital in Oklahoma City following a brain operation that was considered necessary due in part to the deplorable, difficult conditions he had faced for nearly two years in Nazi prisoner of war (POW) camps. See more below about the circumstances that led to his death.
The image above is his senior picture.
Charles Clark "Sonny" Kegelman
William Roberts "Billy" Laird
John Leon Lucus
John Richard Matthews
Ernest Wilfred Miller
Private First Class
Born: 17 November 1911 in Perry, Oklahoma and Died: 20 October 1944
He had attended high school at El Reno High School and was a member of the Central Methodist Church in El Reno.
He was a member of D Company, 383rd Infantry Regiment, 96th Infantry Division, which were nicknamed the "Deadeyes"
Pfc. Miller was killed in Action (K.I.A.) on 20 October 1944, just about two months after first being shipped overseas, on Leyte Island in the Philippines. The fighting in the Battle of Leyte was considered fierce; we do have some interesting detailed records related to the battle and Miller's specific unit. His body was interred at the El Reno Cemetery.
William Arthur Miller
1st Lt. U.S. Army Air Forces
Born 5 December 1921 and Died 4 October 1944
He was an EHS graduate in the Class of 1939. He then attended El Reno Junior College (which was then housed in the basement of EHS, which is now known as the 1st floor of the building). He even took a civilian pilot training course that was offered there, as well.
Miller then enlisted in the military in January 1942, shortly after the Japanese attack on Pearl Harbor on 7 December 1941. He became a Pilot of a B-24 Liberator in the 15th Air Force, 465th Bomb Group, 783rd Bomb Squadron. He was Killed In Action (although he was originally considered Missing In Action) when the Consolidated B-24J Liberator which he piloted, aircraft number 44-41012, a four-engine heavy bomber aircraft, was hit by flak over Munich, Germany. The target for the day was the railroad marshalling yards there. His body was eventually recovered and was interred at the El Reno Cemetery in February 1949.
Robert Edgar Monday, Jr.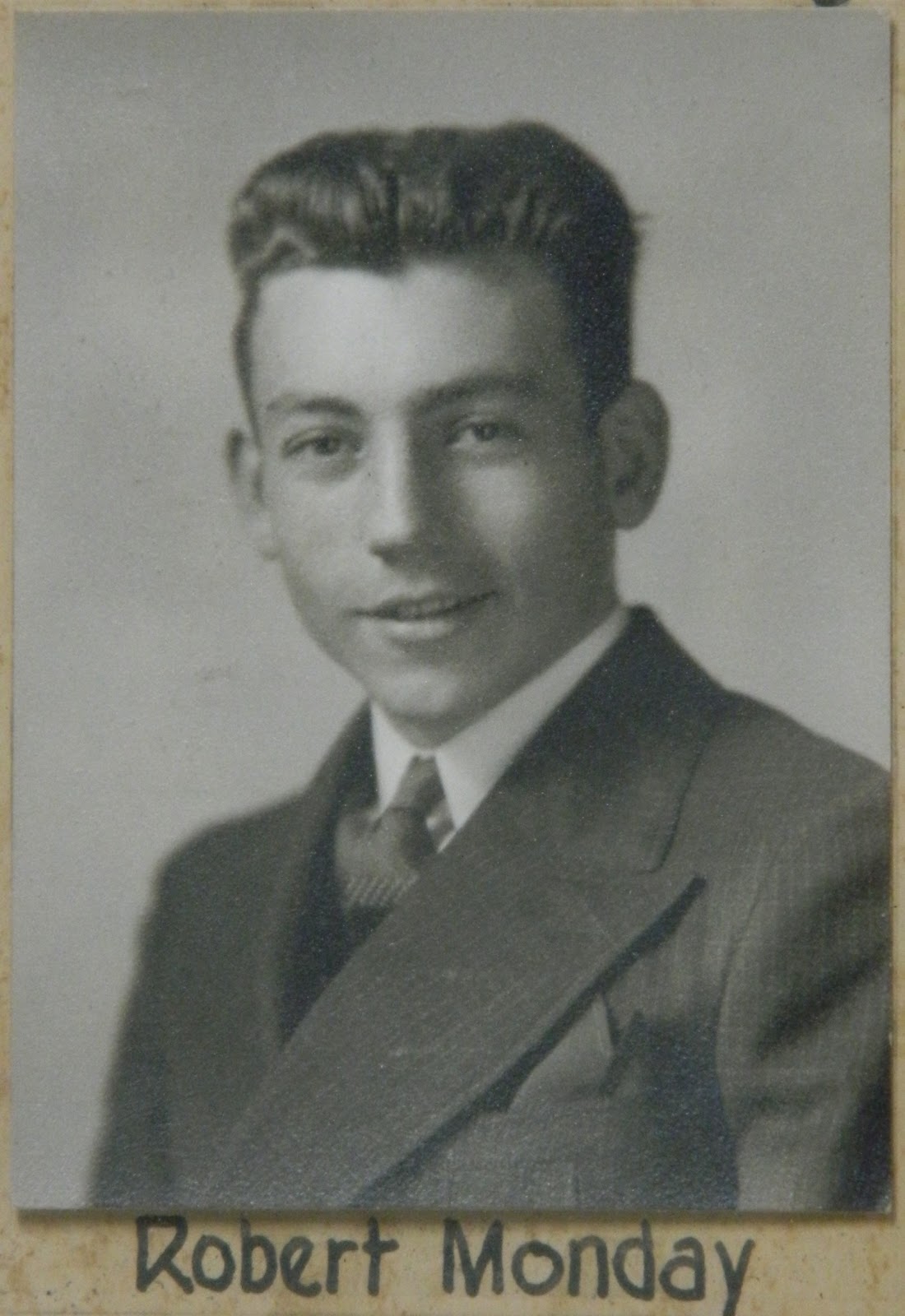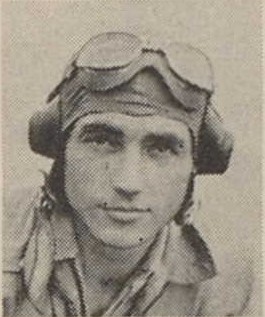 Aviation Radioman First Class U.S. Navy
Born: 6 October 1918 and Died: 11 November 1944
ARM1 Robert Edgar Monday, Jr. was present at Pearl Harbor during the Japanese attack on 7 December 1941, and he even was commended for his bravery that day. His actions that day were pretty amazing, but he did survive the incident.
He was a radioman and gunner on a Vought OS2U-3 Kingfisher observation floatplane as part of the VO-1 Squadron that served on the U.S.S. Nevada (BB-36) battleship. On 28 January 1943, he and the plane's pilot were involved in a landing accident near San Pedro, Island. ARM1 Monday received a head injury in that incident and seemed to have recovered from it. (These landings of these sorts of aircraft were particularly perilous, but observation planes such as this were extremely important to battleships like the U.S.S. Nevada.)However, several months later, ARM1 Monday started having serious complications related to this earlier injury. He underwent minor brain surgery, but it was then determined that a more major surgery was going to be necessary. However, he died before that surgery could be performed, and even before his mother could arrive for that surgery.
Robert Edgar Monday, Jr. was an El Reno High School graduate in the Class of 1936. He married Bernice Nadine Oyler on 17 May 1942, and the couple had a son, Coh Rockwell Monday.
The pictures attached include Robert "Bob" Monday's senior picture as seen in the halls of EHS in the 1936 class composite, his service picture as found in the 1946 EHS Boomer-Collegian yearbook, a picture of the USS South Dakota with Kingfisher floatplanes clearly loaded on it (this was not his ship but it is a battleship and the aircraft are OS2U Kingfishers) from https://ww2db.com/image.php?image_id=25062, and an actual picture of a OS2U Kingfisher observation plane being hoisted on board the USS Nevada (BB-36) itself, a typical practice, as found at https://upload.wikimedia.org/wikipedia/commons/6/65/OS2U_is_hoisted_aboard_USS_Nevada_%28BB-36%29_c1944.jpg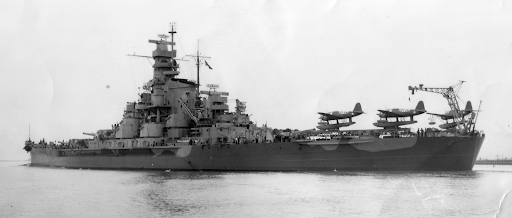 Thomas Howard Morgan
John Forrest Moseley
Harry J. Moss
Robert Eugene Mowry
Corporal U.S. Army
Born 5 February 1925 and Died 13 September 1945 at age 20.
His dad was the pastor at the El Reno First Presbyterian church.
Cpl. Mowry served as an ambulance attendant in U.S. Army Medical Corps.
He was injured on 18 January 1945 in a troop train accident, but he never fully recovered. He died stateside in an Army hospital after consenting to give blood for a transfusion.
Cpl. Mowry was one of four of the original 38 whom Memorial Stadium was originally dedicated to who actually technically didn't die in World War 2, the war officially ending eleven days earlier, on 2 September 1945 when the Japanese signed the treaty aboard the U.S.S. Missouri. (V-E Day was months earlier, too.)
Clarence Arthur Pearce, Jr.
Forrest Dunfee "Jack" Ridenour
Seaman First Class U.S. Coast Guard
Born 13 July 1921 Died 9 March 1944 (age 22)
EHS graduate in the Class of 1940
Served aboard the destroyer U.S.S. Leopold Was Killed in Action when his destroyer, which was escorting merchant ships, was attacked by a German U-boat in the North Atlantic. It is unknown exactly how he died--in the attack itself, or along with several others who died shortly afterward in life rafts in the horrendous conditions in the North Atlantic. Several men from his ship died from exposure in the life rafts before they could be rescued.
S1 Jack Ridenour had a wife and daughter at the time of his death. Both are still living; his widow is now 92 years old, living in Texas, and I've had the distinct pleasure and honor to interview over the phone.
Clarence Thomas Rider
Luther H. Smith, Jr.
John Allen Stewart
Private First Class U.S. Army
Born 11 September 1918 and Died 19 June 1944
Was married to Dorothy Lee Pritner (later Klohn) and had children.
He served in the 22nd Infantry Regiment, 4th Infantry Division.
He participated in the 6 June 1944 D-Day invasion on Utah Beach, then was wounded in action about a week later. He died from his wounds about a week after he was injured in battle.
Bion Leigh Taylor
Robert King Townsend
Roy Whitlock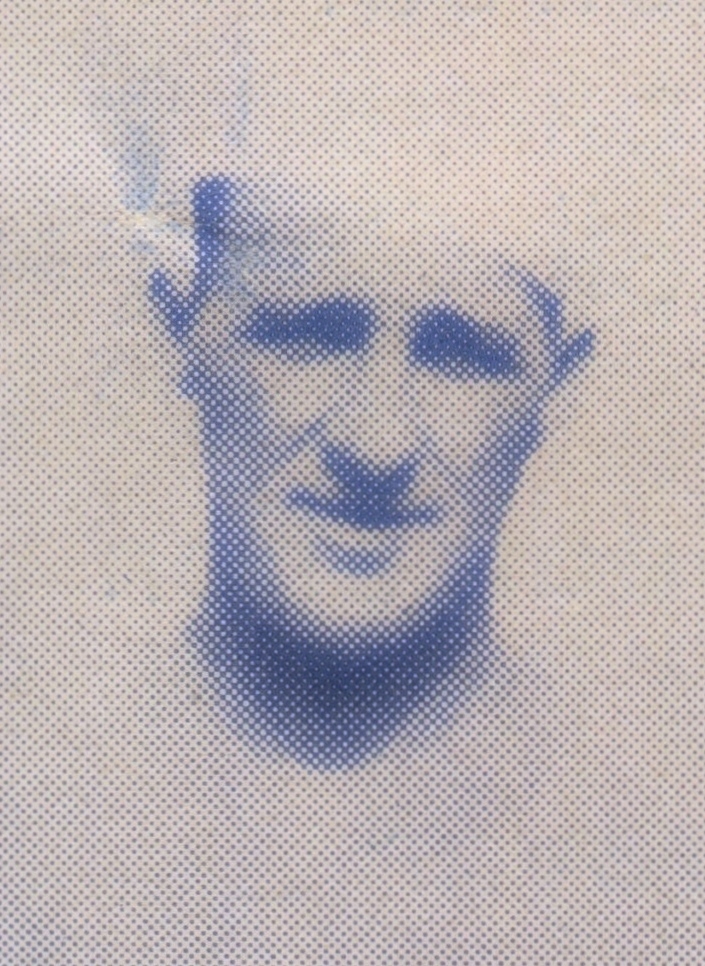 Cook's Assistant United States Merchant Marines
Born 1 July 1910 and Died 5 October 1946
He is one of four of the original 38 (that Memorial Stadium was originally dedicated to) who actually did NOT die during World War 2, but after. In his case, it was more than 11 months after World War 2 officially ended on 2 September 1945. However, Whitlock did serve in the Merchant Marines from 1941 on, so he definitely served in World War 2.
He served on the S.S. Lane Victory--which is now a museum in San Pedro, California--at some point. He almost certainly was serving on it at the time that whatever caused his death initially happened to him. He died in a hospital near Manila in the Philippine Islands.
The picture that is attached is sadly the best one we have of him, which comes from the original 1949 program for the dedication of Memorial Stadium on September 29, 1949, in conjunction with that Thursday evening's football game.
Click here for the link to S.S. Lane Victory museum

Offa Lee Wilson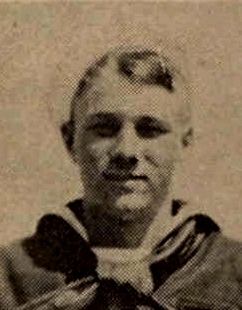 Water Tender First Class, U.S. Navy
Born 28 December 1918 and Died 26 October 1942
Offa Wilson attended El Reno High School. He played right end on the football team.
His Family was from Geary, where he is buried.
WT1 Wilson was Killed in Action (K.I.A.) while serving aboard the U.S. destroyer U.S.S. Porter (DD-356) related to the Battle of the Santa Cruz Islands. The Porter was struck in a friendly fire incident--really a pure accident--as she was hit by an errant torpedo carried by the TBF Avenger torpedo plane whose crew she was stopping to rescue.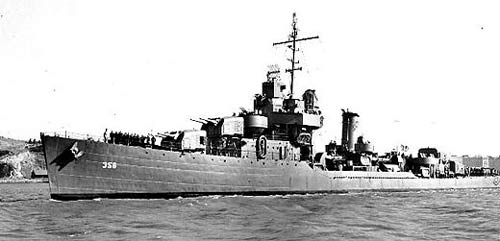 Attached are images of Offa Lee Wilson in his military uniform, as found in the 1943 EHS Boomer-Collegian yearbook honoring him and others who had died in World War 2 to that point, along with an image of the ship he served on, the destroyer U.S.S. Porter, from the website uboat.net
Homer Don Wright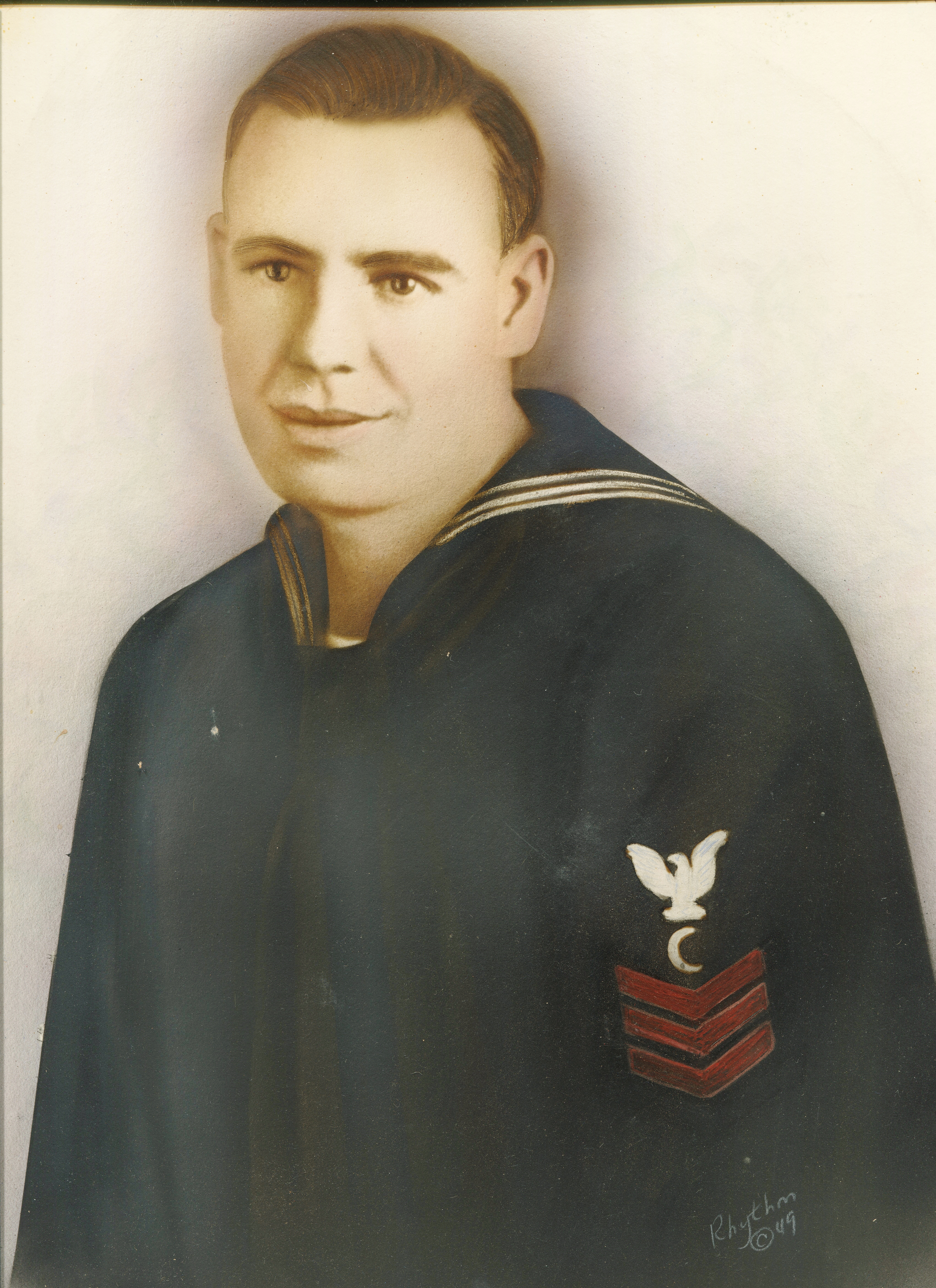 Ship's Cook U.S. Navy
Born 29 May 1915 and Died 14 June 1944
He graduated from El Reno High School as part of the Class of 1935.
He served as a cook on several vessels in the Navy and was in demand enough that the Navy often designated him to serve special dignitaries or guests stateside when not on a boat/ship.
SC Wright perished, being Killed in Action (K.I.A.) along with the rest of the crew when their submarine, the USS Golet (SS-361)--submarines are known by Navy personnel as boats, even though they have the USS designation--was sunk by the Japanese off the northeast coast of Japan.
Earlier, Homer Don Wright, who often went by Don, married Ardath Adele Gore, and they had a son (who is still living in the El Reno area) who was born just a couple of weeks after Don's death. Because his ship was a submarine, however, and out at sea, the family did not know until after the war ended exactly which day his boat was lost. Up to that time, Don was listed as Missing in Action (M.I.A.) His wife had seen him off just before he boarded the USS Golet, which was a newly christened boat.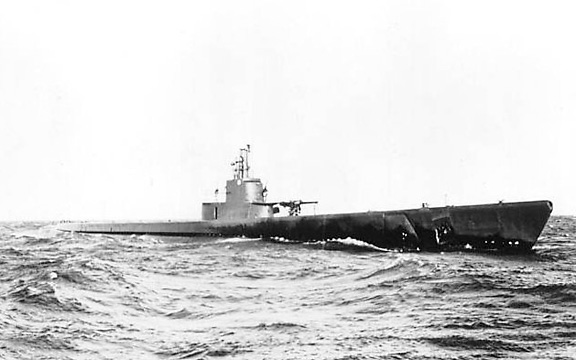 The family still has his Purple Heart and other awards, records, photos, and other information related to his service. The pictures attached are of him (from the family's personal collection) and of the submarine that he was lost on, the U.S.S. Golet, from the website submarinememorial.org.
HERE IS A REFERENCE ARTICLE:https://gateway.okhistory.org/ark:/67531/metadc922497/m1/1/zoom/q=%22Leon%20Lucus%22&resolution=2&lat=3587.8290962523793&lon=1447.9371900651383
*Servicemen Information from Brian Rukes.
Photos from our builder, Kerr 3 Architects