Blessing Baskets info for assistance with Christmas food & toys.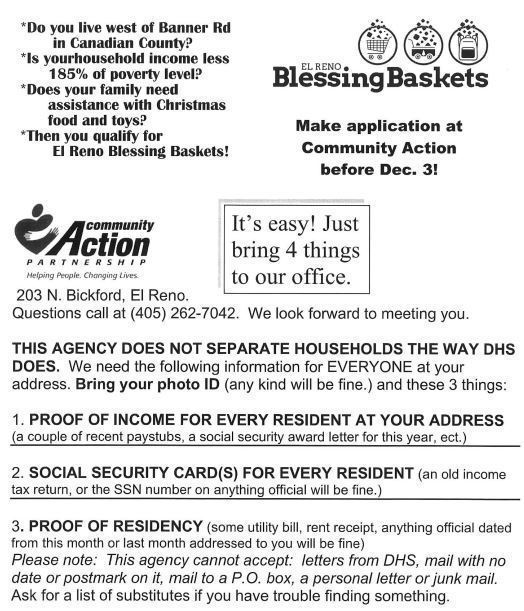 Archery Information Meeting will be Thursday, Oct 21st at the STEM Center.

Blessing Basket Food Distribution will be tomorrow Oct. 12th.

Athletics Info* Varsity Volleyball is in Regionals at Southeast & the 1st game is at 6pm. Tickets will be sold at the gate for $7.00 & OSSAA play-off passes will be honored. 9th grade Football at Guthrie has been cancelled. Live-stream pay per view link for Softball State Tournament:
https://www.nfhsnetwork.com/playoffs/state/oklahoma

ERPS Surplus Auction Info* Items will be posted throughout the next couple of weeks on Public Surplus online auction. Items include mowers, various shop equipment, a van, a bus, miscellaneous school and office furniture, weight equipment, and more. Click on the link below to view items:
https://www.publicsurplus.com/sms/elrenops,ok/list/current?orgid=955956

The 8th grade football game tonight has been cancelled. The 7th grade game will still be played at the scheduled time of 5:30.

Etta Dale Outdoor Education students demonstrating their newly learned skills in fishing at Legion Park.


No School 9/6

Athletics update for 8/30* The home 9th Football game with Clinton has been cancelled. EHS Softball game with Bishop McGuinness has be cancelled JHS Softball game has been moved to 9/9

Both Varsity and JH Softball games today have been canceled due to the rain. Varsity at Noble has been rescheduled for Sept. 20th. JH makeup game has not been set as of yet.

Happy 1st Day of School!!!!