ERPS COVID Status 12-1-20


*Please read carefully* 20-21 Winter Sports Policy effective Thursday Dec. 3rd.

ERPS COVID Status 11-30-20

ERPS COVID Status 11-29-20

For clarification: ERPS will be face to face at every school tomorrow, Monday, November 30th. We will evaluate our situation daily. Please stay home if you have a fever or any other symptoms. We look forward to seeing our students!


Happy Thanksgiving from ERPS!

It is with deep sadness that we inform you of a tragic loss to our El Reno Public Schools staff. On Monday evening, Etta Dale Junior High teacher and coach Jacob Briggs passed away in a car accident. Although Jacob was new to our staff this year, he made a lasting impact on both our students and our staff. We are deeply saddened by his passing and will miss him greatly. Our sincere condolences go out to the family and friends of Jacob. We will offer counseling and bereavement support services to our students and staff. Our junior high counselors can be reached at
mreed@elrenops.org
and
lstafford@elrenops.org
.


J. Owens and Jingles the Elf (C. Parker) presenting teachers with a "Thank You" gift for their hard work & attending workshops during the summer break. Surprise, happiness, & appreciation can be seen on their faces. Keep up the great work, you deserve it!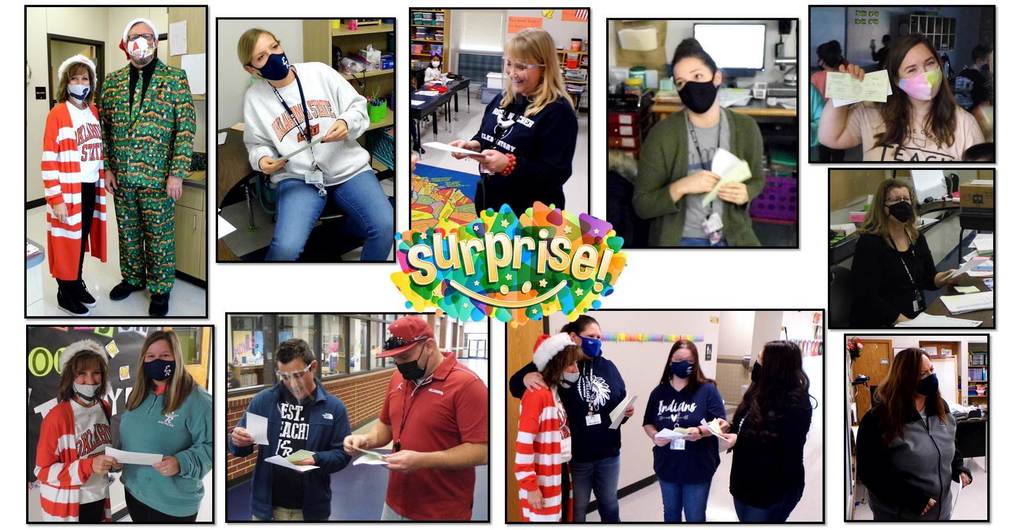 ERPS COVID Status 11-20-20


ERPS Administration rocking to the 80s today! Ice storm 2020 & Covid-19 stole our Halloween, so we decided to head into Thanksgiving Break looking awesome. Have a totally tubular break everyone!

Good evening ERPS Families! Just a reminder that ERPS will be closed all next week for Thanksgiving Break. So we can be prepared for our return on November 30th, we are asking if a student should test positive for COVID 19 during the break, that it be reported to Pat Liticker at
pliticker@elrenops.org
. We hope you have a safe, blessed and HEALTHY break!

ERPS COVID Status 11-19-20


ERPS COVID Status 11-18-20

ERPS COVID Status 11-17-20

Football Playoff tickets for Friday, Nov. 20th are only available online at
https://gofan.co/app/events/73731
. Then you will show the tickets on your phone to the ticket booth to enter the game.