ERPS Indian Education Title VI Meeting will be Tuesday, May 4th via Zoom. Parent Meeting at 6pm & Public Meeting at 6:30pm.

Today's (4-23-21) Jr. High Baseball game @ Piedmont has been rescheduled due to the enhanced risk this afternoon for severe weather. We will now play @ Piedmont next Thursday, April 29. 4:30 start time.

On the way to SpeedFest! Ten 6th graders & four 5th graders have built 2 RC Airplanes to take to Stillwater to fly in a competition against high school, tech school, & even college students! We are the YOUNGEST team to compete by 6 years! They have worked together to also design shirts, masks, helmets, & promo videos! The SpeedFest director has made the videos into a fun little competition, so please click on each video & then click the thumbs up to "like" the videos and the video with the most "LIKES" wins a trophy! Thank you all so much for your help in supporting these kids!!
https://youtu.be/WI9HLjYE5Dc
https://youtu.be/wRhCtb0QKYU

Due to the possibility of inclement weather on Friday our Varsity Soccer game vs. Guymon has been moved up a day to Thursday, April 22 @ 1 pm.

The Jr. High Baseball game tonight 4-2021 has been cancelled due to the cold weather moving in.

ERPS COVID Status 4-19-21

EHS Virtual Production of "The Book of Everything" tickets are now on sale! Price $10 and a private link will be sent directly to you. Click the link to order:
https://elrenohs.booktix.com/

Rose Witcher students creating posters with words of encouragement for the 3rd graders who will be testing this week. You got this!!

FYI* Due to the possibility of bad weather tomorrow we will play 2 Varsity Baseball games today vs. Carl Albert starting at 4:30.

Remembering those lost on 4/19/1995.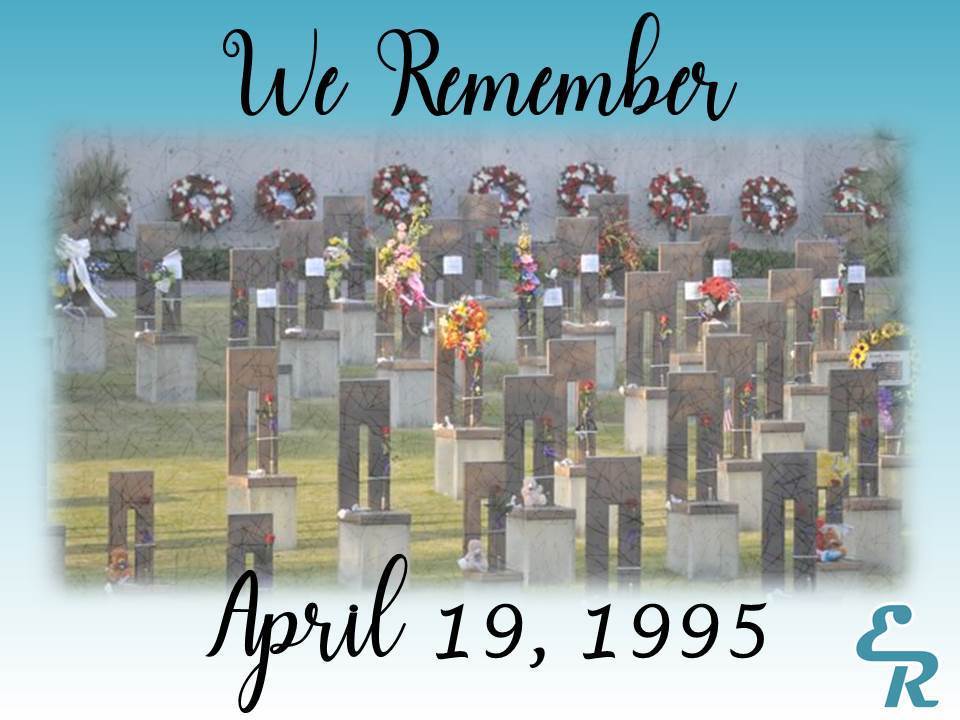 First Steps Child Development Center are selling Hurts Donuts, Maple Bacon Bars, & Hurts Bagged Coffee. Funds will be for playground impact material, infant room large motor toy, wall mounts for glove & mask supplies, and a Cricut machine. The coffee comes in 3 flavors Maple Bacon, Organic, & 2516 Blend. The cost is $22.00 a dozen for the donuts, $5.50 for the Maple Bacon Bars, & $12.00 per bag of coffee. The picture below shows the donuts that come in the dozen being sold. Money is due on April 20th and donuts will be delivered on April 22nd. Contact Sherry Kozak at
skozak@elrenops.org
to order.

Join us for McTeacher's Night Tuesday, April 20th from 5-8pm & help support Roblyer Learning Center.

ERPS COVID Status 4-16-21

Prom 2021! Enjoy-Make memories-Be safe. Having the time of your life shouldn't cost your life.

The Varsity Girls Soccer match vs. Guthrie will be made up on Wednesday, April 21st @ Guthrie 4 pm. This is a district game & must be made up due to Guthrie having to reschedule 3 other district games & dates are slim. OSSAA manual states we can use Wednesday to make up District games if necessary. We have rescheduled the game at 4 pm to try & get our athletes & coaches home promptly.



Hillcrest/Rose Witcher After School Program for 21-22 school applications are now available until filled. Contact Mendy Klepper at
mklepper@elrenops.org
for any questions. Click the link to print the forms
https://5il.co/fvwh

Etta Dale Jr. High yearbooks are for sale for $25. Please order by May 7th.